1) How many numbers of electrons in a copper atom ?
Answer is:
29
Explanation:
Copper has an atomic number of 29, so it contains 29 protons and 29 electrons.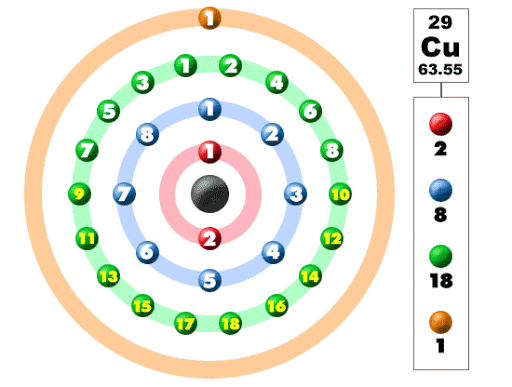 Related Basic Electricity MCQ - Electrician (Set-1) with Answers
Explanation:
One joule per second is equivalent to one watt.
Power=work done/ time.
1 watt = 1 joule / 1 second.
W = Joule / second.
The SI units for work and time are Joules and seconds, respectively.
Therefore, One Watt was defined as a power of 1 Joule per second.
Explanation:
As a form of energy, heat has the unit joule (J) in the International System of Units (SI).
Explanation:
The SI unit of power is Watt (W) which is joules per second (J/s). Sometimes the power of motor vehicles and other machines is given in terms of Horsepower (hp), which is approximately equal to 745.7 watts.
Explanation:
Specific Resistance ("ρ") is a property of any conductive material, a figure used to determine the end-to-end resistance of a conductor given length and area in this formula: R = ρl/A. Specific resistance for materials are given in units of Ω-cmil/ft or Ω-meters (metric).